VoxVisio Webinar Series – 30min-1hr webinars providing an overview by an entrepreneur, technologist, media specialist, education specialists on a topic that may be of interest to University students/recent graduates from the Middle East.
Impact – Raise awareness and spark interest in the latest, disruptive technologies, trends and startups in tech, media and education among target youth in the Arab world.
Format – The webinars are delivered in Arabic mostly, with a 15-20min introduction of the topic, followed by Q&A by participants at the viewing partners locations.
HOW TO JOIN OUR WEBINAR USING ZOOM:
1-Open the link sent with the invitation.
2-You will arrive at a page asking you to join the meeting.
3-If you arrive before the session starts, you will arrive at a page asking you to wait for the organizer to start the session.
4-As soon as the session starts, the organizer will make you a presenter. At this point, you can share your screen.
5-You can use the Zoom control panel which will appear on your screen to control the microphone and the camera settings.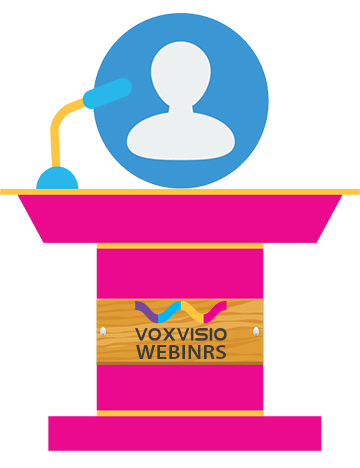 JOIN AS A VIEWING PARTNER
1- Go to Calendar and click the Voxvisio webinar series event.
2- Open the link sent in the invitation.
3- If you are logged in with your google account, you will be in the hangout call. If not, please login first.
4- Once you join the webinar, please mute your microphone to reduce noise. You can open it again in the Q&A in the end.
Benefits:

1. Social Media outreach – mentions across the VIP.fund social channels.
2. Logos on webinar posters.
3. Mentioned by the speaker.
Audiences & Impact:
1-Impact of introducing disruptive technologies & innovative startups to Arab Youth. (Leapfrog outdated startup ideas / educational programs / industries).